The Robert E. Hemenway Writing Center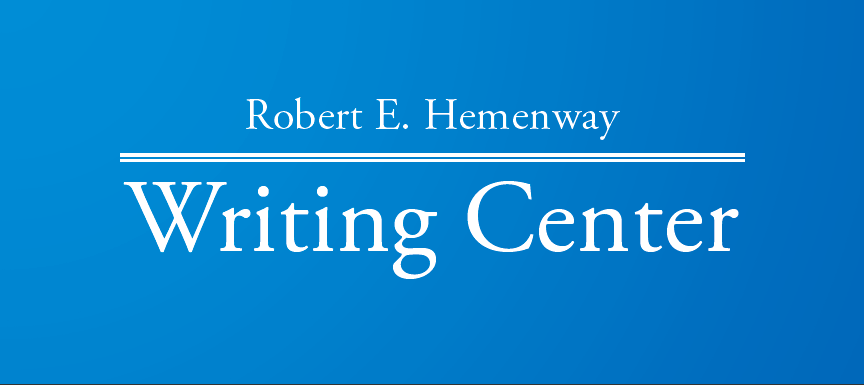 Welcome to the Robert E. Hemenway Writing Center at the the University of Kentucky.
We offer free and friendly help to all UK students, faculty, and staff. We assist with the process of composing and communicating in writing, speaking, and multimedia projects across the curriculum. 

Graduate student consultants and undergraduate consultants provide individual and group consultations in Face-to-Face and e-Tutoring Consultations on academic assignments and professional projects. We help students at every stage of the composing and communicating process.
Location: W. T. Young Library Hub, Room B108B
Summer Session 2: June 8-August 3, 2017
Hours: Monday-Thursday 10AM-3PM
Register as a new client and schedule appointments at uky.mywconline.com
Check out the following videos on YouTube. Spread the word! 
UK Writing Center: Learn About Our Services & Register as a New Client
UK Writing Center Scheduling A Face-to-Face Appointment Instructional Video
UK Writing Center Scheduling an e-Tutoring Appointment Instructional Video
.
In our consultations, we help clients—students, faculty, and staff—review their writing from the reader's perspective. We help clients fulfill assignment and project requirements, write for a specific audience, and learn academic standards of edited written English. Although we help clients learn editing and proofreading strategies, we do not merely direct writers to "fix" grammatical errors—and we certainly do not copyedit the writer's work. Finally, we show clients how to locate and use online and print resources to help them follow models of formatting and documentation style, but we do not do the work for our clients.
Anyone interested in hiring a copyeditor can view a list of editors for hire at the following site: https://wrd.as.uky.edu/editors-hire
Please let us know if you have any questions. Contact the 

Writing Center Director, 

Judy Gatton Prats, at judithgprats@uky.edu
If you need help scheduling or canceling an appointment, you can call us during our business hours at (859)257-1368.
Schedule an appointment online:


 Visit our WordPress site

Join us on facebook
For more information, email Judith Gatton Prats, the Director of the UK Writing Center, at judithgprats@uky.edu