The Robert E. Hemenway Writing Center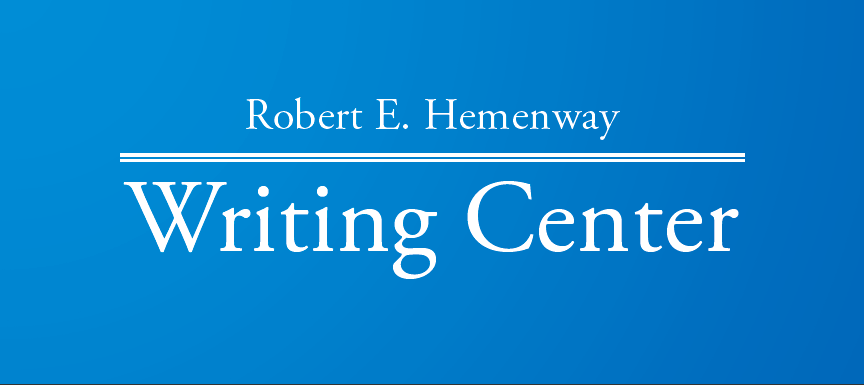 Fall 2019 Information:
Robert E. Hemenway Writing Center 
W.T. Young Library, West Wing, Basement, Room B108B
Hours: Monday-Thursday 10am-9pm; Friday 10am-3pm; Sunday (remote e-tutoring only) 7pm-10pm
Phone: 859-257-1368 (During Business Hours Only)
The Writing Center offers free and friendly help to all UK students, faculty, and staff. We assist with writing, speaking, and multimedia assignments across the curriculum. We offer advice on academic, creative, and professional projects.
 We help clients:
begin, develop, and/or review their projects

fulfill assignment requirements

communicate effectively in specific disciplines

document sources fairly and correctly

learn and practice academic standards of edited written English

develop and polish their writing style
We are committed to helping clients learn editing and proofreading strategies as well as documentation skills.
If you have questions about our mission and services, please contact the director, Judith Gatton Prats, at judithgprats@uky.edu 
In the fall and spring semesters, we offer Face-to-Face Consultations in the Writing Center and e-Tutoring Consultations online. Clients can schedule one appointment per day.
To schedule a face-to-face appointment, click on a white (blank) space (an open appointment) that fits your schedule. When the appointment window opens, enter the required information and SAVE the appointment. You will receive a confirmation email/text and a reminder email/text.
To schedule an e-Tutoring appointment, click on a white (blank) space. When the appointment window opens, enter the required information, follow the instructions to upload a file, and SAVE the appointment. 
To attach a document to an existing e-tutoring appointment: 
1.) Open your appointment window.

2.) Scroll down to find the following information: "This schedule supports file attachments. To upload a file to this appointment, click 'Edit Appointment' below." 

3.) Click "Edit Appointment" and find the following:"This schedule supports file attachments. To attach a file to this appointment, use the options below. To view attached files, click the 'view appointment' button to return to the appointment overview. File attachments must be 1MB or less and in one of the following formats: .doc, .docx, .numbers, .odt, .pages, .pdf, .rtf, .txt, .wpd, .wps, .xls, or .xlsx." Upload your file to the appointment by using the "Choose file" button.

4.) In the "Document Title" box, enter a brief title for your document.

5.) Scroll down and click on "Save Changes"

Once you have saved the changes, your uploaded document should appear on the appointment form. Verify that the document is uploaded to your appointment. 
At the appointment time, the consultant will review the document, add comments, and upload the review to the appointment form. In the review, we will provide questions and comments. We will NOT revise or edit your work for you, but we will show you how to revise and edit your work. When the review has been uploaded, you will receive a notification (email/text).
If no appointments are available, you can join the Waiting List. To the right, beneath each day on the schedule you can click on "Waiing List: Date" , and enter the required information to join the waiting list for that date. If an appointment becomes available on that date, you will be notified by email and/or text message. When you receive the email/text, you must log on and try to schedule the appointment. Please note that others on the waiting list are, like you, trying to schedule the open appointment. Whoever schedules first gets the appointment.
To cancel an appointment, open the appointment window, scroll down, and select "Cancel this appointment" and then click "Okay." You can cancel an appointment up to thirty minutes before the start time of the appointment. After that time, you can call the Center at 257-1368 to explain the last-minute cancelation.
IMPORTANT! If you are unable to keep an appointment (face-to-face or e-tutoring), please cancel online at least thirty minutes before the start time of the scheduled appointment. When clients fail to show up for face-to-face appointments by ten minutes after the scheduled start time, we mark the appointments as missed and cancel the appointments. If you MISS your appointment, it is marked as a NO-SHOW. If you MISS two appointments, your account is disabled for the rest of the semester.For an e-tutoring appointment, if you do not upload a document (and do not cancel the appointment at least thirty minutes ahead), we mark the appointment as MISSED.
Contact Judith G. Prats, the Writing Center Director, at judithgprats@uky.edu to discuss UK Writing Center policies or procedures.
Schedule an appointment online:


Join us on facebook
For more information, email Judith Gatton Prats, the Director of the UK Writing Center, at judithgprats@uky.edu
We do not provide copy editing at the Wriitng Center. If you are interested in hiring a copyeditor, you can view a list of editors for hire at the following site: https://wrd.as.uky.edu/editors-hire