WRD Professor Excited to Teach at China's Jilin University
By Ashley Murphy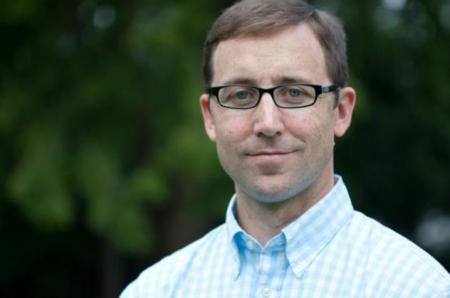 Motivated by his passion for writing studies and rhetoric, as well as his interest in Chinese culture, Brian McNely will head back to China this summer to teach advanced academic writing at Jilin University (JLU) in Changchun.   
McNely, assistant professor in the Department of Writing, Rhetoric and Digital Studies at UK, began his teaching experience in China in the summer of 2013, traveling to Shanghai to teach in a two-week program at Shanghai University. "I had an unbelievable time. I loved my time there, I loved my students there."
In 2015, the University of Kentucky Confucius Institute (UKCI), offered a program at JLU, which grabbed the attention of McNely. He immediately jumped on the opportunity and began his next journey teaching in China. 
"My experience in this program was incredible. I started learning Chinese, and I was able to say some basic phrases in Chinese which greatly improved my relationships with people in China," McNely said. "Jilin University as a partner is fantastic. They really treat UK faculty very well."
What changed from his previous experience was that JLU provided a partner professor, giving him a colleague to clarify things in Chinese for every class he taught. Because the professor specialized in a similar area to McNely, his relationship with his partner professor grew quickly, as they had a lot in common, giving them a variety of things to discuss. 
McNely's experience at JLU was enhanced by the relationship he was able to develop with his students during the time he taught. He commended their intense focus and drive toward what they want out of their academic careers. "What I have found is the students I have taught in China are motivated and know what they want to do. They really want instruction on things that are going to help them." 
The connection McNely made with his students played a key factor in him wanting to return to JLU this summer. Over 100 students tried to register for his 2015 course in technical writing, while several graduate students audited the class because they believed it would be helpful for them in their academic career. His 2017 course on advanced academic writing was designed based on feedback from his 2015 students. He created a curriculum that better addresses student academic needs. 
A majority of his previous students at JLU studied materials science, manufacturing or chemistry with hopes to apply to graduate programs, many of which are in the United States. "The goal of this year's short course is to help students prepare for graduate school," McNely said. "It is designed to help them better understand the kinds of writing they'll be expected to do in graduate school."
As McNely connected with his students on an academic level, he was able to find that his personal interests also coincided with his students. Part of his research includes photography and it is a hobby of his. Sharing this with his students led him to one of his favorite memories during his last experience in China, a photo walk with five students that were also interested in photography. "They took me to some really cool parts of Changchun that I never would have seen if I didn't make that connection with them." 
His experience in China has not only benefited him, but has furthered enhanced his teaching at UK. McNely mentioned that teaching in China has made him work on honing and refining the clarity of the messages taught in class.
"The reality is that teaching in China, you don't have as much versatility because of some of the language barriers to overcome, including jargon and idiomatic expressions in English," McNely said. "The more I can streamline and be clear, the more my students will understand the concepts I'm trying to teach them."
Both the personal and academic experiences McNely had in China is what drew him back into going this summer for the third time. His love for being in different places around the world and academics are combined in this program at JLU.
"Every time I go to China I'm surprised by something new, and I love my experience there," McNely said. "I've told my dean if I could figure out how to do it I'd go teach a full semester there. It's awesome for me."
McNely heads to JLU on May 12 and will return June 4.
A gateway for Chinese language, culture and art to the people of Kentucky, UK Confucius Institute provides leadership, support and coordination for Chinese language and programs in K-12 schools as well as on UK's campus; assists and facilitates establishing and maintaining faculty and student exchanges between UK colleges and Chinese universities; conducts Chinese language and cultural exchange; and promotes education about China on campus, across the Bluegrass region, and throughout the Commonwealth. To keep up with UK Confucius Institute and future events, join the institute's listerv and follow them on Facebook, Twitter and Snapchat (UKConfucius).
UK is the University for Kentucky. At UK, we are educating more students, treating more patients with complex illnesses and conducting more research and service than at any time in our 150-year history. To read more about the UK story and how you can support continued investment in your university and the Commonwealth, go to: uky.edu/uk4ky. #uk4ky #seeblue