Beth Connors-Manke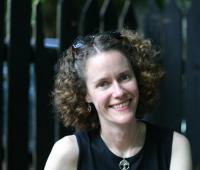 Ph.D. University of Kentucky, English
M.A. Ohio University, English
B.A. Hanover College, English & Spanish

Many of Beth Connors-Manke's childhood memories are of staying up all night reading books. Raised in Indianapolis, Indiana, she migrated to Cleveland, Ohio after college and has since incrementally moved south.
Dr. Connors-Manke's academic research focuses on the rhetoric of witness in prison writing, a topic on which she has presented internationally. Her journalistic writing explores the themes of urban development, housing and poverty, and incarceration. From 2009-2013 she was the features editor and associate editor of the Lexington newspaper North of Center, an experiment in grassroots community writing and activism. In spring 2015, she will be teaching WRD/ENG 405: Editing English Prose.This editing course is the companion to WRD/ENG 301: Style for Writers, one of Dr. Connors-Manke's favorite courses. In fall 2015, students in that course created a sleek blog; students also learned how to style oral compositions when they created podcasts.
Drawn to combine her intellectual work with community engagement, Dr. Connors-Manke has worked at a domestic violence shelter for women and children in Cleveland, served Lexington's Latino community as a volunteer ESL teacher, and participated in grassroots activism for affordable housing and better policies on employment of ex-felons. Her environmental commitments are currently to watershed pollution in central Kentucky and a burgeoning urban reforestation movement in Lexington.
In spring 2014, she taught WRD 111 on argumentation and ethics. First-year students in that class finished the semester with creative podcasts on a historical ethical quandary. Two of her favorites include one about lobotomies performed on World War II vets and another from "RnR Radio" about the Civil Rights era.
During the 2012-2013 school year, Dr. Connors-Manke taught courses on Public Advocacy and Literary Journalism. The Public Advocacy course examined the ways individuals and social movements seek to intervene in public systems and private experiences in order to create change.This course was based on themes and historic moments. For instance, in thinking about American Cold War politics, the class read Arthur Miller's play The Crucible and viewed the recent film Good Night and Good Luck about mid-century journalist Edward R. Murrow. The upper-division writing course on Literary Journalism asked students to analyze the way narrative is structured in literary journalism. Senior Tony Stilt published one of his pieces from the course in a Lexington community newspaper. 
Excited about UK's Peace Studies Program, Dr. Connors-Manke taught "Rhetorics of Violence and Nonviolence" in spring 2012. To see what students wrote and thought about in that course, visit the class blog. She also teaches in Wired, a residential college in A&S, helping students integrate their intellectual work with digital technologies. If you'd like to learn more about students' experiences in Dr. Connors-Manke's WRD 111, listen to this podcast.