By Aaron Porter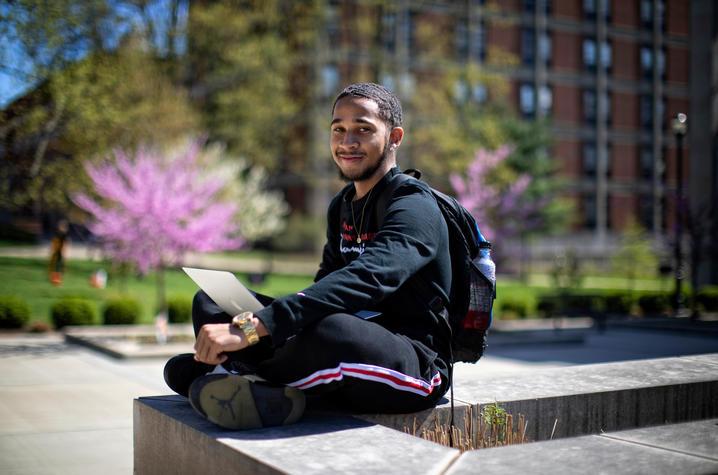 Writing, rhetoric and digital studies student Kenny Trotter came to UK from Chicago. Mark Cornelison | UK Photo.
Kenny Trotter's college career ended abruptly, and his dream of becoming a lawyer was on the verge of never happening (multiple times). But due to his perseverance and "never give up" mentality, he's not only back at UK, he is excelling.
Trotter grew up in Chicago with his parents and two siblings. In 2004, Trotter's mother had just given birth to his little brother, but things quickly took a turn for the worse. One of the most exciting times in his family's life became one of the most life changing as well.
"My mom was diagnosed with stage four breast cancer when I was about 7 or 8 years old. She struggled with that for four years, it came after my brother was born while she was already in the hospital, and that's when they found it in her."
In 2009, after a five-year battle with cancer, Trotter's mother passed away. Soon after, just barely a teenager, he began to take greater responsibility within his family, helping his father more, and taking more care and responsibility for his siblings.
Trotter never let his responsibilities interfere with his schooling. While in high school, he was a part of the International Baccalaureate program, where he graduated as one of the top students in his class. The next step in Trotter's life was college, but the road to get there would be difficult.
Trotter's mother had gone to nursing school, but with her passing and his father never going to college, he was alone in his college application process and looking for guidance on what to do next.
"With my father just seeing a lot of money and numbers, he told me to look into community college," Trotter said.
However, he didn't believe his career goals aligned with a community college. Frustration was beginning to set in. He was upset that his father didn't desire the same dreams he had for himself. But instead of seeing the situation as a final verdict, Trotter went to work, to make his dream a reality.
Luckily, he had someone to call on — his cousin Steven Hunter. An attorney in Chicago, Hunter had sparked in Trotter at an early age the dream of becoming a lawyer.
"Whenever my school had 'take your child to work' days, I used to go with him all the time," Trotter said. "I used to go with my cousin to his law firm, to see how he worked, to see the climate, and I really liked it."
Becoming a lawyer was his goal, and the learning experiences at a university were exactly what Trotter wanted.
His cousin stepped in and took him under his wing during the college process.
Although Hunter was beside him the whole time, Trotter had an individual drive and desire all his own to make his dreams happen. His family calls him "relentless" due to his determination and attitude toward life. If he wants it done, it will get done.
By the end of his senior year, Trotter was accepted into three colleges, but didn't receive any scholarships, making it that much harder to pay for school. While that placed another stumbling block before him, Trotter was determined to find a solution.
He and his cousin drafted a plan. "I would see how much I could get for financial aid," he said. "I told my dad these are the three schools I got accepted to, now which one are you willing to help me get into. We pretty much went into this meeting with my father saying we can't take no for an answer."
After the meeting, the school of choice was the University of Kentucky. Trotter believed UK gave him the best chance of learning a great deal in, and outside of, the classroom. Placing himself in a new environment by being an out-of-state student meant he would be forced out of his comfort zone, but he was determined to push himself to even greater success on this journey.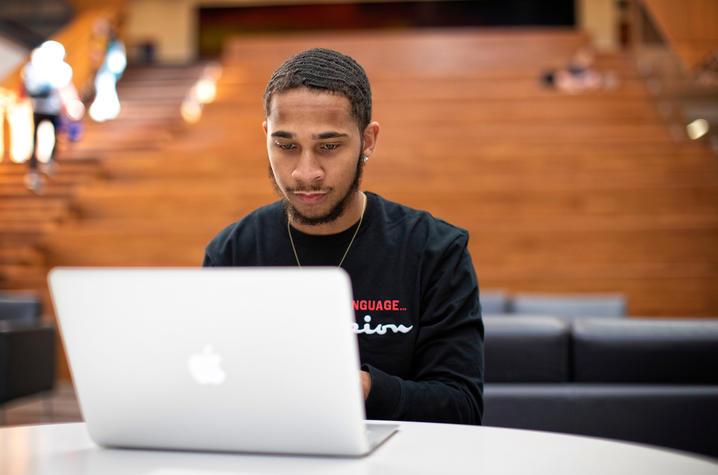 The first two years of Trotter's college career had been exactly what he had dreamed. He had a 3.0 GPA, joined different student organizations including Underground Perspective (UGP), and became a member of a fraternity.
But during finals week of his sophomore year, as he was preparing for exams, Trotter got a call that changed his entire life and college plan.
"I'm working, involved with my fraternity, involved with UGP, going to school, then he (my father) tells me 'you need to figure out what you're going to do — I'm retired, I'm getting remarried, I'm not going to be able to co-sign on your loans anymore.'"
Without his father to co-sign on the loans, Trotter was not able to pay for school or even get another loan.
"This situation almost broke me," Trotter said. "I had done so much just to get him to agree to help me co-sign with loans for the first few years. I'm finally able to get into school, and now it's getting taken away from me just like that, with matters that are outside of my power."
Trotter said as much as it hurt him, he understood his father had a life of his own he wanted to pursue. He finished school that semester and went back home to find another solution.
Over the summer, his belief in himself and faith in his life plans gave Trotter the determination to continue to work toward his goal, even if he didn't know what was happening next with school. He took two internships with two different law firms in Chicago that summer to keep his mind on his education.
As summer progressed, Trotter looked for different solutions to finish school, even if it meant transferring from the University of Kentucky.
But whatever idea he had, the cost of school was always a hurdle.
"I was looking at the prices, and even if I get accepted into another school, how am I going to afford it? So, I was still lost, I didn't know what to do," he said.
After a summer of evaluating his options, Trotter eventually had to drop out of school.
He had made many friends during his time at UK and was keeping in contact with them about what was going on with his situation. One of his closest friends was Makayla Juliao. Trotter had practically become part of her family while he was at UK.
As he explained his situation to Juliao and her family, they were startled and couldn't believe these things were happening to him. A young man who had been successful in school is now being forced to leave due to financial reasons outside of his control. That was all the Juliao family needed to hear. Without even being asked they opened their doors to Trotter, to help him get back on his feet.
"I lived with them for free; they didn't charge me for anything," Trotter said. "I couldn't believe it when they first told me. I told them, 'people don't usually do this.'"
The Juliao family made it possible for Trotter to start seeing the light at the end of the tunnel again. His dreams now had a solid foundation, and he was ready to build them back up again.
In addition to the financial savings living with the Juliaos allowed, Trotter worked a series of jobs to save up enough money to get back into school. As Trotter explained it, it didn't really matter the job, the goal of getting back into school was his driving force.
"Whatever job I could get I was going to take. I was working, working, working, working."
Even if the job required late nights, early mornings, Trotter was there. In his mind this was all for a reason and purpose.
"I know this is part of the process of becoming an attorney. I really want this. Nobody can possibly change this outcome but me, so I realized if you don't take the appropriate steps, it's not going to change."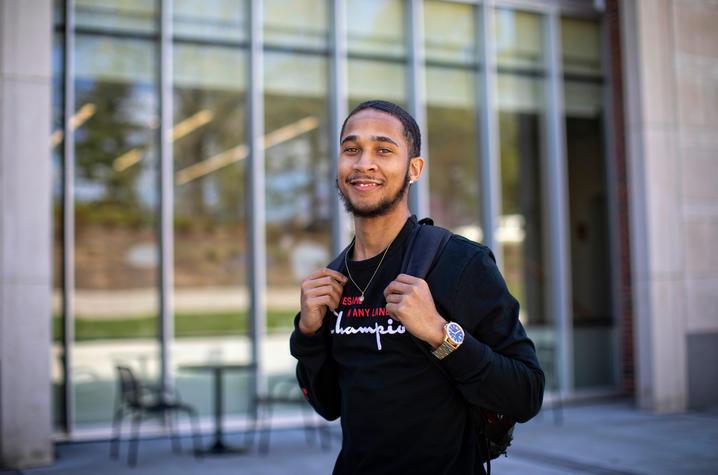 After taking a year away to work and save money and going through the process of applying for school all over again, after all the paperwork, the sleepless days and restless nights, Trotter got the letter — he was back in school.
"It felt like an award, like I earned this," he said.
The writing, rhetoric, and digital studies junior rewarded himself again at the end of his first semester back by earning a 4.0 GPA in the fall of 2018.
Reflecting on his experience, Trotter thought he saw his dream snatched away, more than once, but worked as hard as he could to put his college career back in his hands. At times, he can't even believe he is back in school. The work it took to just sit in a classroom again is a testament to his desire to achieve his career goals.
Trotter keeps in contact with the Juliao family as much as he can. He keeps them and their generosity in his thoughts as he works toward his degree, and each day he is here is a reminder of the help they gave him, further motivating him on this journey.
But his ultimate motivation is his mother.
"She wouldn't want me to give up. I know that. She always wanted me to be successful."
It wasn't easy, but if hard work was easy everyone would do it. Trotter's hard work has him in line to graduate in 2020. And, he wants students to know, that anything in front of you, no matter how big, can be conquered.
"No problem or obstacle is unable to be surmounted, even a mountain. You can climb one, it takes a lot, but the mountain can be climbed. Someone reached the top of Everest — you got to decide if you're going to be that person."
The University of Kentucky is increasingly the first choice for students, faculty and staff to pursue their passions and their professional goals. In the last two years, Forbes has named UK among the best employers for diversity and INSIGHT into Diversity recognized us as a Diversity Champion two years running. UK is ranked among the top 30 campuses in the nation for LGBTQ* inclusion and safety and the Chronicle of Higher Education judged us a "Great College to Work for." We are ranked among the top 10 percent of public institutions for research expenditures — a tangible symbol of our breadth and depth as a university focused on discovery that changes lives and communities. And our patients know and appreciate the fact that UK HealthCare has been named the state's top hospital for three straight years. Accolades and honors are great. But they are more important for what they represent: the idea that creating a community of belonging and commitment to excellence is how we honor our mission to be not simply the University of Kentucky, but the University for Kentucky.