William Endres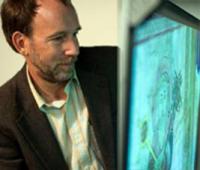 Education:
Ph.D. Arizona State University
Research:
As a visual rhetorician and digital humanist, I study Insular illuminated manuscripts, made in the British Isles between 600 and 850 CE. My research agenda has two main focuses. First, I am committed to digitizing manuscripts that have neither had a color facsimile made nor been digitized. For my research, I require access to a complete manuscript so that I can study how a decorative scheme unfolds. Decoration and imagery presents a progression in Insular manuscripts, with major imagery functioning not in isolation but as an accumulated expression of that which comes before and after.
However, digitizing a medieval manuscript has its challenges. Perhaps the most pressing challenge is how best to represent the dynamics of a physical manuscript in a digital form. Features of a manuscript, like the notoriously difficult to photograph dry-point glosses (etched with a stylus but no ink), highlight deficiencies in typical photography and more advanced techniques like multispectral imaging (photographs taken capturing various frequencies of light, from ultraviolet to infrared). Therefore, I use and experiment with multiple techniques, like Reflectance Transformation Imaging (composite images of a series of photographs taken with varying directional lighting), multispectral imaging, and 3D capture. Furthermore, I digitize the products of past photographic efforts, like lantern slides and Photostat copies, to present as complete view of a manuscript as possible and how a manuscript presented itself in earlier times.
Organizing and presenting a digital version of a manuscript on the Web so that it generates knowledge takes thought, innovation and tinkering. There is no one definitive approach. I continue to develop new approaches, working with Noah Adler, Director of Research Computation and Application Development for the UK College of Arts & Sciences. One of my earliest efforts with Noah was to develop an overlay viewer, which enables any two images of a manuscript to be overlaid, the top image's transparency adjustable through a slide-bar for comparisons. This approach caught the attention of the Google Cultural Institute in Paris and was mimicked sixteen months later by the UK VisCenter.
For manuscripts, 3D renderings also present unprecedented opportunities for online interaction and generating knowledge. Working with Noah, I was able to present the first 3D renderings of an illuminated manuscript on the Web. These renderings are high resolution and include a measurement tool and allow for annotations. To view these approaches, I invite you to visit Manuscripts of Lichfield Cahtedral (lichfield.as.uky.edu). The site has been visited by people from 76 different nations and over 1300 cities. Scholars from over 130 of the top universities from around the world have likewise visited the site.
Second, my scholarship on Insular manuscripts echoes my interest in digitally representing a manuscript: I study how early medieval monks organized visuals and invented conventions for images and text to interact dynamically and portray knowledge. To this end, I work with a range of manuscripts, from the Book of Durrow to the Book of Kells, but I pay particular attention to the 8th-century St Chad Gospels, an intriguing manuscript that marks the mid-point of Insular development. My relationship with Lichfield Cathedral, where the St Chad Gospels resides, made possible my 2010 digitization of this manuscript and Lichfield Cathedral's 15th-century Wycliffe New Testament. This relationship continues—the past summer (2014), I used Reflectance Transformation Imaging to capture the St Chad Gospels' dry-point glosses and the state of the manuscript's pigment.
For my Reflectance Transformation Imaging of the St Chad Gospels, see articles in the Lexington Herald-Leader and KYForward.
For an example of my research on new ways of representing a manuscript for interaction, engagement, and scholarship, watch my short video on 3D: The St Chad Gospels: Potentials for 3D in the Study of Manuscripts.
For information about my use of historical images to understand the aging of the St Chad Gospels, see "Historical Image Overlays: Manuscripts of Lichfield Cathedral" in D-Lib Magazine May/June 2014.
For a discussion of my initial imaging project at Lichfield Cathdral, my website, and my research on Insular illuminated manuscripts, listen to an interview I did with Tom Godell of WUKY, "Digitizing the Past."
For information about my 2010 digitizaton of the St Chad Gospels and Lichfield Cathedral's Wycliffe New Testament, see Jennifer Howard's 21-Century Imaging Helps Scholars Reveal Rare 8th-Century Manuscript in the Chronicle of Higher Education.
Areas of Specialty
Digital Humanities
Insular Manuscripts
Visual Rhetoric
Digital Representations
Imaging Technologies
Rhetorical Invention
Instructional Technologies