William Endres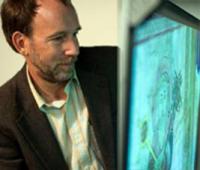 Education:
Ph.D. Arizona State University
Research:
I am a visual rhetorician and digital humanities scholar. In the summer of 2010, I digitize Lichfield Cathedral's St Chad Gospels (also known as the Lichfield Gospels, Book of St Chad, St Teilo Gospels or Llandeilo Fawr Gospels), an 8th century illuminated manuscript, and Wycliffe New Testament, dating from about 1410. The St Chad Gospels is one of the oldest and most important illuminated manuscripts in England. It has had a colorful past: in its early years, the gospelbook was likely stolen and ended up in Wales, where a man named Gelhi traded his best horse for it. Gelhi gave the gospelbook as a gift to the altar of St. Teilo. From its time in Wales, the St Chad Gospels contains in its margins the earliest examples of written Old Welsh. Sometime in the tenth century, the St Chad Gospels was returned to Lichfield. The manuscript narrowly escaped destruction again during the English Civil War--Precentor Higgins hid the manuscript and delivered it to the Duchess of Somerset for safe keeping as Cromwell's forces advanced.
The online version of these two treasures of Lichfield Cathedral can be viewed at Manuscripts of Lichfield Cahtedral (lichfield.as.uky.edu). It is the first collection in the University of Kentucky's new digital repository and hosted through the College of Arts & Sciences. For the various contributors to my digitization efforts, digital projects do take a village, see the Acknowledgements on the Manuscripts of Lichfield Cathedral website.
Also, I sat down with Tom Godell at WUKY and discussed the Lichfield project and my research on Insular illuminated manuscripts, manuscripts made in the British Isles from roughly 600-850 C.E. that led to my digital and scholarly efforts to make these stunning medieval manuscripts available on the Web.
I am interested in the ways that uses of visuals affect our epistemologies and invite us to re-envision our theories of rhetoric and practices of thought.To this ends, I work on insular illuminated manuscripts, manuscripts made in the British Isles from about 600-850 CE, recovering what I can of their lost practices and secrets. For an example of my research on new ways of seeing for scholarship, watch my short video: The St Chad Gospels: Potentials for 3D in the Study of Manuscripts.
Recently, Michaella Thornton interviewed me about my research for Kairos: A Journal of Rhetoric, Technology, and Pedagogy. The interview, A Digital Aperitif,  is published in vol. 18.1 (Fall 2013) and appears as a condensed video or in longer audio and text segments.
Areas of Specialty
Digital Humanities
Visual Rhetoric
Insular Manuscripts
Rhetorical Invention
Instructional Technologies
Selected Publications:
"More than Meets the Eye: Going 3d with an Early Medieval Manuscript" in Proceedings of the Digital Humanities Congress 2012, ed. Clare Mills, Michael Pidd and Esther Ward, University fo Sheffield, March 2014.
"The Turn-in-the-Path Imagery in the Book of Kells: Lost Practices for Managing Difficulties in Textual Layout for Bookmaking," The International Journal of the Book (7:3 2010).
"Communicative Strategies for Administrative Practices: Evaluating Weblogs, Their Benefits and Uses." WPA: Writing Program Administration 29:3 (2006): 85-106.