Roxanne Mountford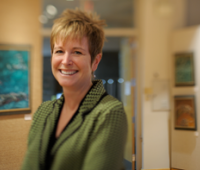 Education:
PhD, English, with specialization in Rhetoric and Composition, The Ohio State University, 1991
MA, English, with specialization in Rhetoric and Composition, The Ohio State University, 1989
Biography:
Roxanne Mountford
Roxanne Mountford is the founding director of the Division of Writing, Rhetoric, and Digital Media and co-founder of the Composition and Communication Program.  She was born in Kansas City, Kansas and grew up in Canton, Ohio.   She received her BA in English with a minor in Political Science from Malone College (where her father was a professor of music).  During her senior year at Malone, she was the first woman student body president, working on student activism and service projects.  She received her MA and PhD in English with a specialization in Rhetoric and Composition from Ohio State University.  Previously, she was Director of Expository Writing and Assistant Professor of Rhetoric at Rensselaer Polytechnic Institute, and Associate Professor of English at the University of Arizona where she taught courses in composition, composition theory, research methodology, history and theory of women's rhetoric; American religious rhetoric; rhetorical analysis; and history of rhetoric.  She received two university-wide teaching awards at Arizona, both for innovations in undergraduate education. She has served on the Editorial Board for Rhetoric Society Quarterly and Communication and Religion and is currently serving on the Board of Directors for the Rhetoric Society of America.  She is author of The Gendered Pulpit: Preaching in American Protestant Spaces (Southern Illinois, 2003) and co-author (with Michelle Ballif and Diane Davis) of Women's Ways of Making It in Rhetoric and Composition (Routledge, 2008) and numerous articles on rhetoric and writing.  Her current projects include a study of Amy Semple McPherson and a history of efforts to integrate speaking and writing instruction in American colleges and universities in the twentieth century.