Adam Banks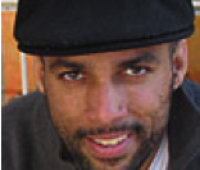 Biography:
Born and raised in Cleveland, Ohio, and educated in the Cleveland Public Schools, Adam Banks received his BA in English from Cleveland State University, and his MA and PhD both in English from Penn State University. Professor Banks is currently Professor of Writing, Rhetoric, and Digital Studies (WRD) at the University of Kentucky, where he teaches courses in African American Rhetoric, digital rhetorics, community literacy, and rhetoric and composition theory. He is also the Director of WRD for 2013-14.  Previously, he has been Associate Professor of Writing and Rhetoric in Syracuse University's Writing Program. He is the author of the award-winning Race, Rhetoric, and Technology:  Searching for Higher Ground, a book challenging teachers and scholars in writing and technology fields to explore the depths of Black traditions more thoroughly and calling African Americans to make technology a central area for struggle. His second book, Digital Griots:  African American Rhetoric in a Multimedia Age, was released by Southern Illinois University Press's Studies in Writing and Rhetoric series.
Dr. Banks spent Fall 2011 as a Visiting Scholar in Comparative Media Studies at MIT, where he is beginning work on a new book reexamining the "Talking Book" literacy trope for our current digital age.  During the Spring 2010 semester, he served as Langston Hughes Visiting Professor of English at the University of Kansas, where he taught courses on African-American rhetoric, new media, and technologies. Banks sees community work as deeply connected to his growth as as a teacher and intellectual, and has developed and delivered several projects in Lexington linking African American rhetorical traditions to current realities and futuristic visions for activism and community building.
More information about Professor Banks' scholarship and teaching can be found at http://dradambanks.net
Research:
"Domestication and breeding of tomatoes: what have we gained and what can we gain in the future?"Annals of botany100,5(2007):1085-94. Details. Full text.