Spring WRD Writing Gallery

The Spring WRD Writing Gallery is a showcase of student writing at the University of Kentucky. This installation features texts created in Department of Writing, Rhetoric, and Digital Studies (WRD) courses during the past year. These texts include multimedia documentaries, photoessays, podcasts, websites, and other types of writing that students often create in their WRD classes. 
>>Watch a highlight video on 2013 gallery.
By sharing student work in public, we are not simply "showing off" our students (though we like doing that), but we're also fulfilling the University of Kentucky's land grant mission as a public institution. We're confident that students will leave UK with a better set of writing skills that will earn them good salaries. But, perhaps more importantly, they will also leave with an understanding that writing is always a public and a communal act.
We are celebrating the ways that students are engaging with the written word--and the written world--here at UK. For a full list of all WRD students whose work is showcased in the 2014 Writing Gallery, please see our author page. 
---
This year, many WRD students created multi-media documentaries as part of their work in WRD 110, 111, and 112. The following is a selection of our teacher-nominated work from 2014 courses. 
"Arboretum Documentary"  Jackson Wells, Jared Watson, Morgan Napier, Matt Matchinga, Greg Denton
"Cystic Fibrosis: The Need for a Cure"  Francis James LaRosa III, Katherine Donnowitz, Gordon Cooper South Whitt,  Vincent Gouge, Holly Nicole Kramer
"From Rivals to Friends"  Jess Ogburn, Caroline Nickerson, Reese True, Raryn Tanner, Cecile Avery
"GMOs: Good or Evil?" Ethan Cardwell, Margo Sketch, Ed Frasier
"Green Amidst the Gray" Anthony Ryan Haggard, Boone Proffitt, Nicholas Rand Thornberry
"Medicus" Bailey Anderson, Sarah Bailey, Allison Pinkston, Sydney Winchester
"The William T. Young Library" Jessica Garner 
"The Faces of Music"  Hollie Brianne Coleman, Zachary Reed Joseph, Anna Townsend, Justin, Hill,  Grace Coy
Anti-Bullying PSA
"Students and Studying" Benjamin Scheidecker and Daniel Bagley
---
Many WRD students have also created websites as part of their research in WRD courses. The websites below are a small sample of the many compelling sites students created during 2014.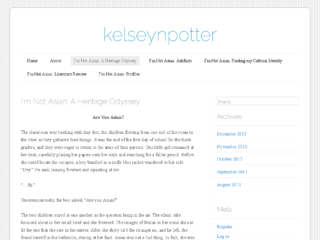 "I'm Not Asian: A Heritage Odyssey" Kelsey Potter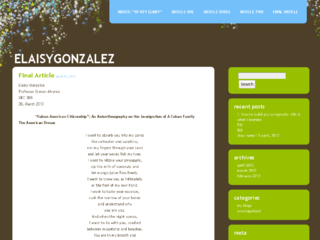 "Cuban American Citizenship: An Autoethnography on the Immigration of a Cuban Family" Elaisy Gonzalez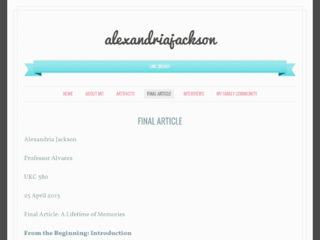 "A Lifetime of Memories" Alexandria Jackson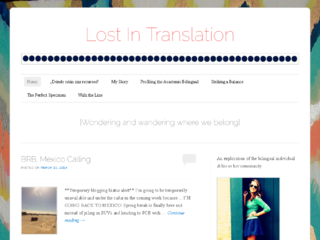 "The Perfect Specimen: Dissecting a Bilingual" Sarah Caton 
---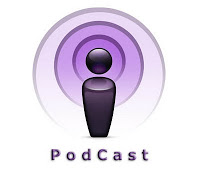 WRD students are also enouraged to create podcasts as part of their work. Hear Efi Disi's podcast, "On the Importance of Communication Skills."